OVER 10 MILLION RUBBER BUSH BEARINGS SOLD WORLD WIDE
GMP Marine Cutlass Rubber Bearing
GMP is one of the world's most trusted names in the marine industry worldwide for over 35 years. Our bearings are used in rudder, shaft and stern gear applications for all types of marine vessels from naval ships, cargo/container ships, tankers, ocean liners, luxury yachts, to harbortugboats, trawlers and costal fishing boats.

With continuing research and advancements in product technology, GMP Marine Cutlass bearings now exceed US Navy specifications in critical parameters like Tensile strength, elongation and bond strength.

GMP Marine Cutlass Rubber bearings are made to the highest quality standards, in materials, workmanship and dimensional accuracy (Clearance and tolerance is as per U.S. Navy Standard,). Our bearings have proved its mettle by operating in the toughest conditions ranging from the arctic to the tropics, in shallow waters as well as high seas.

Our bearings cover a wide range of shaft diameters from 25mm to 400mm. (Bespokesizes can also be made on request).
All GMP bearings are lined with a proprietary formulation of Nitile rubber perfected over decades of research and development. The rubber is extremely tough and resistant to swelling, as well as exposure to chemicals and oil. This Nitrile rubber compound is molded and bonded to metal or non-metallic shell. The bond strength between the shell and Nitrile rubber lining is an industry leading 235 PSI (16.5 Kg/sq. cm)

The inner groove design of GMP bearings combined with proprietary Nitrile rubber lining create a hydrodynamic lubricating film to separate the bearing surface and the shaft even at low shaft speeds. The unique shape of our bearing grooves is designed for maximum lubricating water flow and dissipation of heat.Abrasive grit is flushed out through these grooves, protecting the shaft as well as the bearings from damage.

This helps to reduce wear on the bearing surfaces in environments with high sand and other abrasive particles, as found in shallow water.

The bearing is designed to let these abrasive particles pass over its surface and into the grooves where it is flushed out by water feed pressure. This system prevents these particles from getting embedded into the bearing surface and causing severe wear on the propeller shaft.
CONCENTRICITY AND CYLINDRICITY
Most manufacturers use centreless grinding techniques to finish the outside diameter but centreless grinding process does not take the inside diameter of the bearing into account, the centres of the outside diameter and inside diameter may not be the same.

GMP bearings are mounted on a mandrel and ground on a cylindrical grinder, thus achieving better concentricity as well as cylindricity to the full length of the bearing so that it is perfectly circular, perfectly straight and has no taper, as compared to bearings turned on a lathe machine.
RUBBER PROPERTIES
Density (Specific gravity)
1.25 ± 0.1
Hardness Shore A
65/75 shores A
Tensile strength
(Min) 120 kgf/cm2
Elongation
(Min) 200%
Permanent Compression set
(Max) 20%
Co- efficient of thermal expansion
(Max) 7x104
Bond strength (rubber lining to shell)
235 PSI (16.5 Kg/sq. cm)
GMP COMPOSITE (PHENOLIC) MARINE CUTLASS RUBBER BEARING
GMP Composite Cutlass Rubber Bearings offer all the benefits of our brass shelled bearings with added benefit of being lightweight (1/3 the weight of brass bearings) and no galvanic corrosion due to its anti-electrolytic properties.

GMP Composite Cutlass Rubber bearing are made of proprietary composite materials developed by our in house R&D team. The material is resistant to oil, grease and chemicals and match the temperature range of metal bearing materials to function at temperatures from 5°C to 70°C

High temperature resistance and negligible swelling characteristics of GMP composite rubber bearings enable them to operate at a closer running clearance than other bearing materials.

The composite outer shell is kept flexible for better grip when pressed into the housing. Our shell material also has bearing properties, so even if the soft lining is worn out the shaft will not be damaged.

GMP Composite Cutlass Rubber Bearings are available in brown and black colours. GMP Flanged Composite Cutlass Rubber Bearings is available only in black.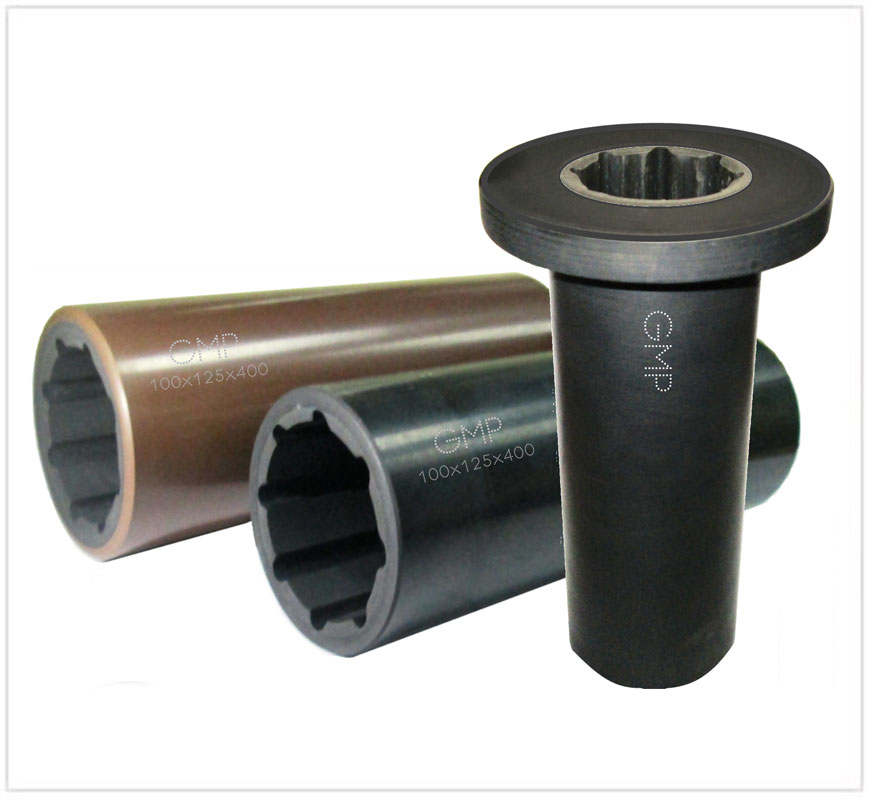 GMP FLANGED MARINE CUTLASS RUBBER BEARINGS
Our Flanged Bearings designed for heavy duty operations are cast centrifugally with an integral flange; the shells are heavy walled to provide structural strength. The flange is bolted to the stern tube or strut housing to retain the bearing and prevent rotation within the housing.

Shells are furnished un-drilled unless specified. GMP flanged Marine Cutlass Rubber Bearings are available in cylindrical circular or split semicircular designs.
All Rights Reserved By GMP